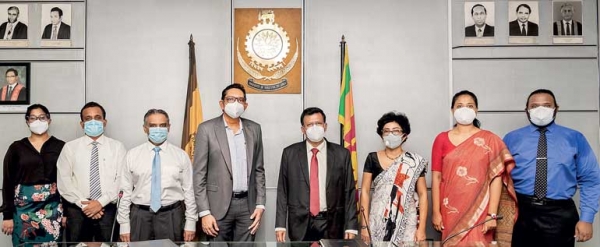 Warning
: count(): Parameter must be an array or an object that implements Countable in
/home/hsenjqhr/public_html/templates/linstar/html/com_k2/templates/Blog Classic/item.php
on line
73
hSenid partners Moratuwa University to empower undergraduates towards the digital corporate
From left: hBS Head of Marketing and Communications Vichalya Wijesuriya, hBS Head of Support and Enterprise Delivery Mahinda Pathirana, hBS Chief Product Owner Asitha Goonewardena, hBS Director and CEO Sampath Jayasundara, UoM Faculty of Business Dean Senior Professor S.W.S.B. Dasanayaka, UoM Faculty of Business Department of Management of Technology Senior Professor V.M. Wickramasinghe, UoM Faculty of Business Department of Management of Technology Head Dr. Amali Wijekoon, and UoM Faculty of Business Department of Industrial Management Shenal Rajakarunanayake
---
hSenid Business Solutions, a leading Human Resources solutions provider in Sri Lanka, has partnered with the University of Moratuwa (UoM), a prestigious state higher education institution in the delivery of Human Resources Information Systems as part of its Bachelor of Business Sciences degree program.

This partnership further amplifies the scope of the program, adding strategic value to the study of Human Resources by capturing the essence of HRIS, encapsulating the complete automation of HR with Analytics and Artificial Intelligence-driven HR Tech advancements. A partnership aimed at grooming future minds in the pursuit of building a strong business landscape in Sri Lanka that moves ahead globally with technology.

University of Moratuwa Faculty of Business Dean Senior Prof. S.W.S.B. Dassanayaka mentioned, "We are very much happy and lucky to partner with hSenid Business Solutions, for the benefit of our undergraduate students to use this software for the teaching and learning activities in Human Resource Information Systems. Today, functional business areas are expanding with wide applications of business information systems and related solutions. Therefore, this software solution will be useful for us to reach the next higher level in our teaching and the scholarships of undergraduate students."

He also stated, "The Business Faculty of UoM mainly focuses on business information systems and solutions in line with the design, measurement and technology aspects in the business science angle, while giving weight to sense, meaning and interpretation in the curriculum to give students a balanced education. We are quite sure that the hSenid partnership will improve our teaching and learning in this business discipline and add more value to the academic community, especially for the development of undergraduate skills to be at par with current market requirements."

The University of Moratuwa is a renowned state university of Sri Lanka, ranked among the top 5 universities in Sri Lanka (source: webometrics.info) with the mission to be the leading Knowledge Enterprise for technological and related disciplines in South Asia. Founded in 1978, with its origins tracing back to the Government Technical School (GTS) that was established in Maradana, Colombo in 1893, to date consists of five Faculties including the Faculty of Business and its newest addition is Medical Faculty. Since its establishment, the University of Moratuwa has educated talented youth from diverse backgrounds and transformed them into high-quality professionals, academics and business leaders.

Striving to keep up as an indigenous multinational, hSenid Business Solutions takes the responsibility of taking care of over 1,000,000 users in 1,300 organisations across 18 industries and operates from Australia, Bangladesh, India, Kenya, Singapore and Sri Lanka.

"We feel privileged to be working with the University of Moratuwa, in the delivery of Human Resources Information Systems as part of its undergraduate degree program. We also feel honored to be supporting the Sri Lankan higher education system furthering its reach in business and technology. I look forward to seeing the opportunities this partnership will create and the positive impact it creates in taking young Sri Lankan minds to international ground," mentioned the CEO of hSenid Business Solutions.