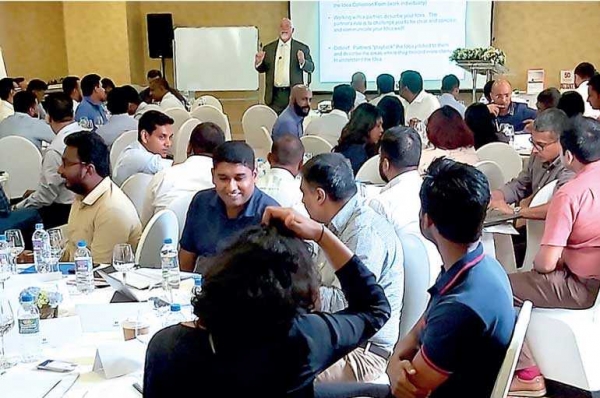 Warning
: count(): Parameter must be an array or an object that implements Countable in
/home/hsenjqhr/public_html/templates/linstar/html/com_k2/templates/Blog Classic/item.php
on line
73
Innovation management masterclass by hSenid
By Darshana Abayasingha
Renowned Sri Lanka human resource software mobile application developer, hSenid, hosted an Innovation Management master class in Colombo this week. The program was designed for entrepreneurs, intrapreneurs and business start-ups seeking to leverage the powers of innovation management to succeed in every sphere.
The program was conducted by reputed trainers from Australian innovation management company, Mybrainwave, and imparted valuable knowledge to participants on how to capture ideas and refine them to be monetised in local and regional markets.
The program also provided valuable insights on Information Management Body of Knowledge standard, highlighting the concepts and practical aspects of information management. The engaging sessions touched on practical understanding of how innovation management works, business planning, commercialisation and how to develop holistic end-to-end high-level plans, plus, walking stakeholders through program presentations.
The session was well attended with representatives from leading IT applications and electrical appliance service providers, telecommunications, banking and finance, manufacturing and service sectors.
The participants took the opportunity to develop and present numerous ideas to solve day-to-day issues in Sri Lanka including congestion, poverty, services, logistics and insurance sectors, receiving instant feedback from trainers, stakeholders and the audience on the quality of their presentations and ideas, and how best the organisations and their teams could turn these ideas into viable ventures.
Participants utilised practical case studies, exercises and real-life experiences to global standards to learn from and be guided by the facilitators to foster an entrepreneurial mindset and utilise innovation management.