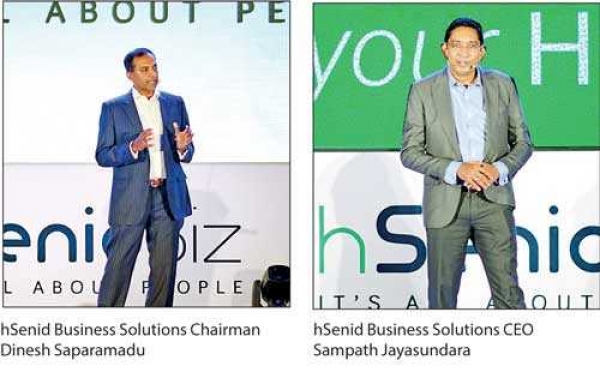 Warning
: count(): Parameter must be an array or an object that implements Countable in
/home/hsenjqhr/public_html/templates/linstar/html/com_k2/templates/Blog Classic/item.php
on line
73
PeoplesHR Neon: a HR solution by hSenidBiz for the millennial CEO
Innov8 Sri Lanka, an event hosted by hSenid Business Solutions, was held recently at the Hilton Colombo, exclusive for partners and clients.
The evening drew the attendance of over 350 directors, CEOs, heads of HR and partners from across the globe, who witnessed the launch of the latest version of hSenid's HRIS solution, PeoplesHR Neon.
Innov8 Sri Lanka is focused on fuelling the tech revolution while creating a nation full of hope, creativity, innovation and imagination. Elaborating more on the theme for the night, hSenid Business Solutions Chairman Dinesh Saparamadu spoke on his journey and the challenges in making hSenid Business Solutions an indigenous multinational following its birth in 1997.
"The first few years weren't easy. We faced a challenge to build a HR system that no one in the local market had seen before. There were a lot of late nights in those first years and one thing that has not changed in 23 years is the commitment and dedication we possess," he said.
Catering to an array of organisations from around the world, this event had the HR heads of two of Sri Lanka's largest multinationals sharing their experience of having hSenid as their HR partner throughout their journey.
Lanka ORIX Leasing Company Plc Chief Human Resource Officer Pradeep Uluwaduge stated: "LOLC, being one of the largest conglomerates, centrally handles all its HR functions. As a result, having one platform to provide a solution for all these different industries is a massive challenge but hSenid has catered to most of these solutions and we're extremely satisfied. The greatest testimony is that LOLC has rolled out the hSenid HR solution in Cambodia and in Sierra Leone. hSenid has catered to many specific customisations and has supported us throughout our journey in striving towards innovation."
Adding to Uluwaduge's words was Brandix Global Group Chief People Officer Ishan Dantanarayana, who underlined the three main reasons why hSenid was chosen as the best option for the Brandix Group.
"Being Sri Lanka's largest employer, we have 60,000 direct employees and an equal number of indirect employees. So when there's a large head count we need to make sure that the systems that we use are reliable to cater to complex procedures like payroll, scale as the headcount keeps increasing and if the system cannot keep up it will be a problem and as a business which is constantly innovating and transforming, we need a solutions provider which understands our needs and quickly enables us to get those needs across with speed. hSenid has been extremely customer-centric which has made it helpful for us.''
These speeches were followed by the highlight of the evening, the launch of the latest addition to the PeoplesHR product line.
Educating the audience on the product upgrade was hSenid Business Solutions Chief Product Owner Asitha Goonewardena, who stated: "The new era of millennial CEOs functions in a totally different manner. With an app for everything, they need things on the go, with information at their fingertips. It is a requirement to know the overall HR health of their organisation. The Enterprise Dashboard created by hSenid is a single viewpoint with monthly overviews, consolidations of various KPIs, efficiency metrics and various other trends made visible to these modern CEOs."
He elaborated more on the latest features of the system which included predictive analytics, simulations, big data, Robotic Process Automation (RPA), business intelligence, dashboards, pulse, individual development plans, mobile apps, chatbots, etc.
"hSenid has reached the pulse of a 1,000,000 users, out of which 500,000 belong to our local clients who are the main reason for us becoming an indigenous multinational."
hSenid Business Solutions CEO Sampath Jayasundara thanked the company's clientele and partners and wrapped up the evening.
Striving to keep up with the intention of being the global Sri Lankan in HRIS, hSenid Business Solutions steps into the new decade with its latest upgrade, PeoplesHR Neon, which seeks to spark HR disruption. Today, hSenid Business Solutions is an indigenous multinational of 1,200 clients from over 18 varying industries across more than 35 countries. It operates from Australia, Africa, Bangladesh, India, Kenya, Singapore and Sri Lanka.