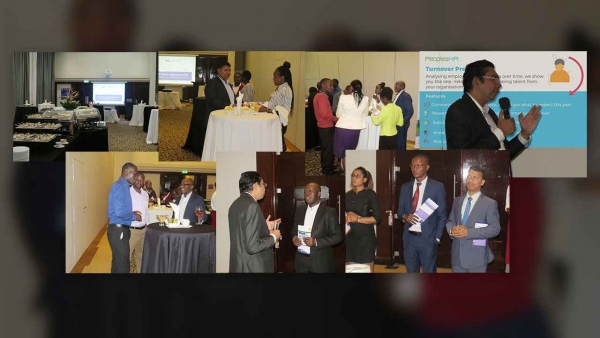 Warning
: count(): Parameter must be an array or an object that implements Countable in
/home/hsenjqhr/public_html/templates/linstar/html/com_k2/templates/Blog Classic/item.php
on line
73
hSenid Business Solutions kick starts AI in Kenya with Predictive Analytics
hSenid Business Solutions, the number one Human Resource Information System (HRIS) provider in Sri Lanka, hosted an evening of "AI Driven Analytics of HR" recently at the Crowne Plaza Nairobi Hotel, Kenya. The presence of Chairpersons, CEOs and HR Directors from leading organisations in Kenya made this event a success with the launch of HRM Enterprise V 8.5.
Adding an extra boost to the capabilities of the prevailing HRIS, V 8.5 provides better service with augmented features and upgraded technologies that improves the overall performance of the system.
Sampath Jayasundara, CEO of hSenid Business Solutions highlighted the key feature of V 8.5, 'Predictive Analytics: The next level of people's insight'. He emphasised on the importance of minimising the risk of decision making on a hunch and basing its predictions on the organisation's data history.
The system analyses similarities and patterns from the data that has been collected for years and builds a dashboard on attendance, turnover and absenteeism predictions on the organisation's future.
The list of new features continue with revolutionised Performance Management, Probation Evaluation, Talent Management, Self Service Widgets and many more.
Specialising in holistic human resource applications both on premise and cloud based, HR services outsourcing and software development. hSenid is growing at a very rapid pace and is now operating from Sri Lanka, Australia, Singapore, India, and Africa. Since its incorporation in 1997, hSenid has acquired over 1000 clients globally, across 18 industries from 30 countries.