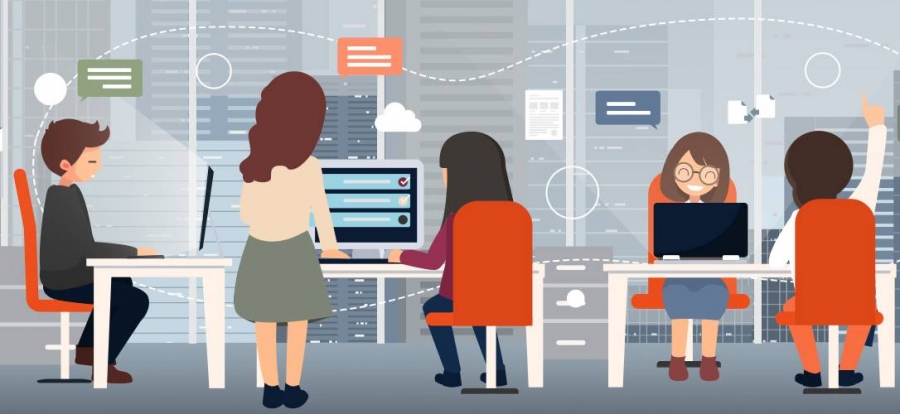 Warning
: count(): Parameter must be an array or an object that implements Countable in
/home/hsenjqhr/public_html/templates/linstar/html/com_k2/templates/Blog Classic/item.php
on line
73
3 Team Collaboration Strategies to Build Perfect Virtual Teams
As the pandemic resets most of the working trends, companies and HR leaders must think of new ways to manage and plan their workforce and employees by implementing new performance and experience strategies. Recent research shows that 32% of the organisations are now replacing full-time employees with part-time workers as a cost-saving strategy. Besides, the recent Gartner poll showed that 48% of the employees are willing to work virtually at least a part of working days after COVID-19. Since employee working behaviour is changing organisations, they need to shift to more remote work operations. Implementing a remote working environment will enhance the employee-working culture within the organisation. Since some employees are working at office, it is important to implement team collaboration strategies to increase the productivity of employees. Team collaboration will give employees an equal and fair distribution of work and give the ability to make the most of their unique skill set. Besides, the organisation can experience increased productivity and flexibility of its employees by implementing effective collaborations strategies. Here are some tips for team collaboration strategies, which can be implemented easily within the organisation. 


Keep encouraging and recognising employees
Since employees are working remotely, they might think that their hard work is unnoticed by their top management. Because of that, organisations need to improve their employee recognition programme and increase benefits, which are given to employees as an appreciation for their hard work. Organisations must build a culture, which recognises the talent of the employees and rewards based on their performance. Managers can ask co-workers to give feedback for each other and that information can be used to analyse employees further. Employee recognition will motivate employees to deliver their best for the organisation. 

Use video calling wisely 
Video conferencing is the best way to boost morale and eliminate the loneliness of your virtual teammates by improving team collaboration. Organisations must make sure to set up a good video conferencing tools for employees to stay connected.  

Make time for fun after work 
Sometimes remote workers may feel that they are missing certain milestones of their workplace like birthdays, company goal completion and socialising with others. To avoid mental health issues the organisations must think about virtual collaboration methods to keep their employees happy. It is a must to have a good communication method to communicate work-related matters, as well as companies, can use different types of apps to connect with members and share their stories after working hours. Team members can organise movie nights, after-work chats and members can enjoy their morning coffee or afternoon snack with a simple video call. These kinds of simple activities will help organisations to build a strong relationship between team members and more across remote teams. 

Team collaboration will help employees to identify their position in the organisation and it will help them to feel wanted. Brainstorming new ideas, group discussions, analysing a problem to create a solution, training and development can be considered as few examples for team collaboration. If these strategies are implemented within the organisation, it will help to increase experience and acceleration of product development and other major processors in the organisation. Effective team collaboration strategies will help enhance the quality of communication and it will automatically speed up the entire process. Because of effective team collaborations, companies can create greater values, and they will be able to share those values with their customers.