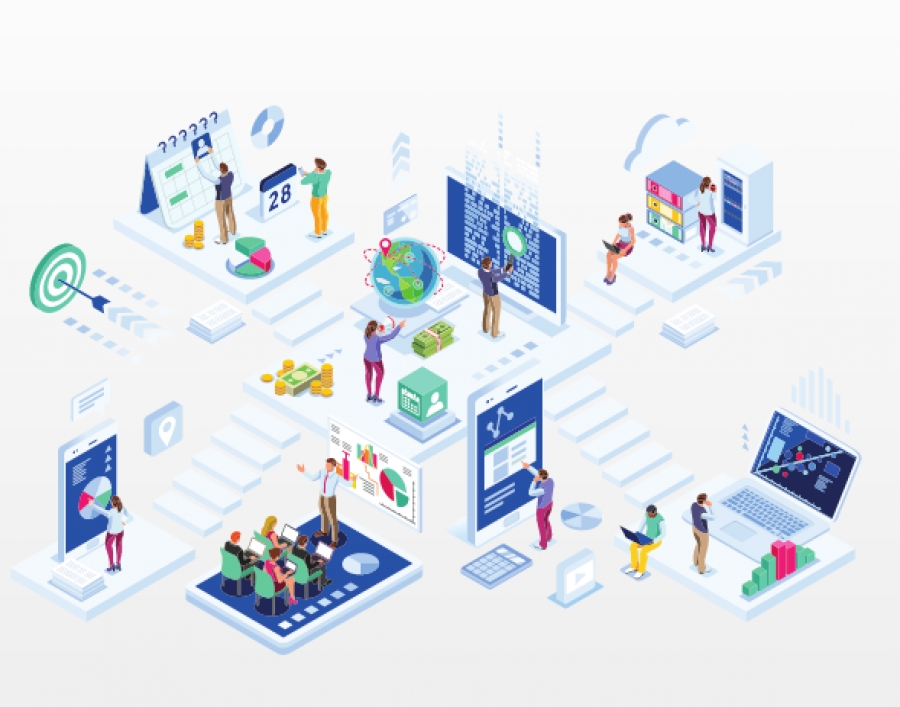 Warning
: count(): Parameter must be an array or an object that implements Countable in
/home/hsenjqhr/public_html/templates/linstar/html/com_k2/templates/Blog Classic/item.php
on line
73
Five ways to enhance employee experience
1) Digital transformation
Look around you and almost everything you do will have a digital- tech element attached to it. We live in a world that is on a race towards a digital sphere. When it comes to employee experience, the journey of a particular employee can be enhanced through digital transformation.
For example, one such digital transformative tool that managers can look at to create more employee engagement within the workplace is Enterprise Social Networking platforms. Likewise, Juraa is an ESN, which provides the opportunity for employers to be more interactive with each other and build a sense of camaraderie through collaboration and engagement. The knowledge-sharing forum feature offered by Juraa will help employees learn from different departments, making use of the overall knowledge in-house. Moreover, the achievement sharing feature will also allow employees to feel more special, as they have the chance to celebrate their achievements and garner the due recognition and praise for the hard work from their colleagues.

2) Efficient Onboarding
An employee's onboarding experience matters a great deal ,as it is the starting point of his or her journey within the organisation. 33% of newly employed candidates search for a job within the first six months on their current job. Therefore,it is pivotal to develop an effective onboarding program to forge deeper connections with the recruits. For instance, PeoplesHR system could help companies to tackle this particular situation with its onboarding feature where the entire procedure is automated and easily accelerates the transition and eases out the HR tasks in relation to recruiting new employees into the organisation.This will allow managers to integrate employees into the workplace culture much faster and help exclude unwanted vacancies and help filter out the appropriate candidates as well.

3) Employee wellness investment
Employee wellness is a new avenue that can be exploited by managers to further deepen the corporate relationship with their personnel. Employee wellness goes beyond just the physical aspect of it, mental wellbeing is of major importance in the present day as well. Therefore features like the happiness indicator offered by HRIS systems such as PeoplesHR, will assist managers in empathizing with their employees more effectively to help better the situation that the employee is dealing with and more. If organisations invest in employee wellness aiming to better their emotional, physical and spiritual wellbeing, it will help managers to form an uplifting corporate culture and create employees who are more attentive and productive at work.

4) Career development programs
Employee retention is most likely to increase if there is room for career development. Personal growth is of paramount importance for present day employees. An effective strategy that managers can implement could be a personal development plan for all the individuals in the personnel and means to achieve them through a corporate training schedule.
Moreover creating a development program which includes resources and training that the specific employee is interested in will encourage them to be actively engaged in excelling in that particular field. Developing a customized career development program will not only make your staff feel more valued but this will eventually widen the internal talent pool of the organisation as well.

5) Sharing Customer feedback
One way in which managers can increase employee confidence is by sharing customer feedback and this should be communicated throughout the organisation in order to signify that the company is delivering to the customers needs which will give a sense of purpose to the employees too. Sharing customer feedback will not only empower employees but also offer a clearer picture of what works and what doesn't with the respective customer base while providing a deeper analysis of the customer journey for the employees to engage more deeply in the process so as to perform better next time.